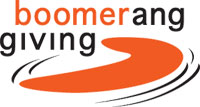 OUR MISSION
To empower older Americans – including the 3.5 million who are turning 65 each year – by creating new opportunities to give back and join others in strengthening their communities.
OUR STORY
Boomerang Giving is a registered 501(c)(3) nonprofit organization started in 2013 by seven people in the Seattle area (six of whom are over 65).  We were motivated by the opportunity to take advantage of the strong desire of older Americans to contribute to their communities in meaningful ways.  We were also motivated by the realization that the "aging of America" – with 3.5 million baby boomers turning 65 each year – only adds to that opportunity!
After discussing a number of ideas, the board converged around encouraging persons eligible for senior discounts to redirect the amounts saved to charity.

The Encore Network is a resource for leaders and organizations in the encore movement, which taps the skills and experience of those in midlife and beyond to improve communities and the world. For more information on the Network, member organizations and their activities, go to www.encore.org/encore-network.
OUR BOARD